Updated: Feb 24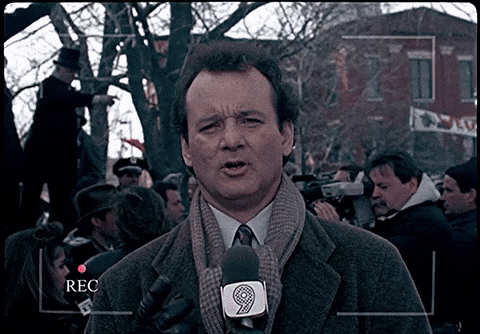 Time for my Movie Review! Today's Film is Groundhog Day!
Weatherman Phil Connors reassures Pittsburgh viewers that an approaching blizzard will miss Western Pennsylvania. He goes with news producer Rita Hanson and cameraman Larry to Punxsutawney, Pennsylvania, to cover the Groundhog Day festivities, which he has done for several years. Phil makes no secret of his contempt for the assignment, the small town, and the "hicks" who live there.The next day, Phil awakens at his Punxsutawney bed and breakfast to Sonny & Cher's "I Got You Babe" on the clock radio. He tapes a half-hearted report on Punxsutawney Phil and the town's festivities. Rita wants to stay and cover other events, but Phil wants to return to Pittsburgh. The blizzard blankets the region in snow, stranding them in Punxsutawney. Phil shuns the celebrations and retires to bed early.
Phil wakes to "I Got You Babe" and the same DJ banter on the radio, and discovers the day's events repeating exactly. Phil relives the day and returns to bed, assuming it was a dream, but it is still Groundhog Day when he wakes again: he is trapped in a time loop that no one else is aware of. Realizing there are no consequences for his actions, he spends the first several loops indulging in binge eating and drinking, one-night stands, robbery, and reckless driving. After spending several loops trying and failing to court Rita, he becomes depressed and desperate for a solution to end the loop. He kidnaps Punxsutawney Phil and drives off a cliff with him, even going as far as committing suicide various times, but he continuously wakes up to "I Got You Babe" on the radio.
Phil tries to explain his situation to Rita, for whom he has feelings, by accurately predicting the day's events. Rita sympathizes, and they spend the entirety of one loop together, but Phil wakes up alone as usual. He decides to use his knowledge of the day's events to better himself and the lives of others; he learns how to play the piano, sculpt ice, and speak French, but is unable to save a homeless old man, who dies of old age regardless of his actions.
During one loop, Phil enthusiastically reports the Groundhog Day festivities, amazing Rita. They spend the rest of the day together, and Phil impresses her with his apparent overnight transformation and charitable deeds. She successfully bids for Phil at a charity bachelor auction. Phil makes an ice sculpture of Rita's face, and tells her that no matter what happens, even if he is doomed to continue awakening alone each morning forever, he wants her to know that he is finally happy, because he loves her. They retire together to Phil's lodgings. Phil wakes to "I Got You Babe" again, but finds Rita is still there with him and the radio banter is different; Has he escaped the time loop? You'll have to watch to find out!
Personally, I think this film is absolutely fabulous because watching it you think " Oh this is going to be rubbish! What a silly plot for a movie!" but when you get into it you realise what's happening and you are amazed because of how clever it is. Also it is very funny and is great to watch near Christmas and with your family (Dads that went to the corner shop excused!) so you need to see this movie. You won't regret it!